This is Diane's special programme of bookable walking tours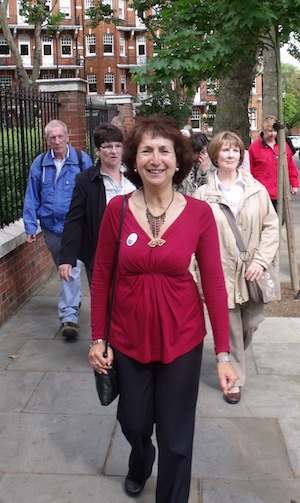 ---
Discovering London - Walks and Visits
Blue Badge Guide Diane Burstein and City of London Guide Julian Romain will be running a 30 week 3 term series of walks and visits starting in Autumn 2014. Meet like minded people who are interested in all aspects of London history for these regular sessions. Choose between Tuesday, Wednesday, Thursday or Friday (AM and PM).
For further details and an application form either email diane@secretlondonwalks.co.uk or telephone +44 20 8445 0159.
---
Special Halloween Tour
Friday 31 October 2013 at 7pm
Our popular Halloween Sinister London Tour will take you to haunted graveyards, execution spots and the sites of two of London's notorious prisons.
Dare you walk with us?
Meeting place: Meet outside the main entrance of Blackfriars Tube on the north side of Blackfriars Bridge. Walk takes place in all weathers.
Cost: £10 per person
---
Historic Theatreland - UPDATED FOR 2015!

Explore the fascinating story of London's Theatreland from Regency times to the present day. Our expert guide, Diane Burstein will guide you around the streets of the West End where you'll see variety theatres, fringe venues, a leading Off West End theatre and a studio where some of Theatreland's recent greatest hits were developed.
You'll hear about some of theatre's most intriguing characters, from the Shakespearean knight who wanted to sing in a musical to the eccentric theatre owner who brought opera to one of London's poorest districts.
This is a great tour for both Londoners and visitors with an interest in theatre or the history of British entertainment.
Dates: 31 May, 14 June, 21 June, 28 June at 14:30. 25 August at 18:00.
The tour on 31 May will be British Sign Language interpreted.
---
NEW TOUR! Shakespeare's London
Shakespeare spent a large part of his working life in the City of London and on Bankside (London's 16th and 17th-century Theatreland). On this tour you'll investigate an intriguing trail, pieced together by documents relating to court cases, deeds, disputes and plays. You'll visit fascinating spots from Shakespeare's time in the capital such as the atmospheric courtyard where he collected velvet cloth for a royal procession, Ireland Yard where he owned a house and Playhouse Yard, the site where his last plays were performed by candlelight.
The tour finishes by crossing the Thames to Bankside to see the reconstruction of Shakespeare's Globe and hear tales from when this area of the city was London's playground.
This tour is perfect for fans of the Bard or for anybody with an interest in the history of London.
Dates: 05 July, 12 July, 26 July at 14:30. 1 September at 11:00.
The tour on 26 July will be British Sign Language interpreted.
---
Haunted Theatreland – UPDATED FOR 2015!
Be brave and take a walking tour of Theatreland to discover some of the capital's haunted theatres. You'll hear about the man in grey, the ghost of a clown and the phantom prompter to name but a few. Enjoy mysterious tales of a severed head and a 'strangler jacket'. You'll also discover the stories behind some well-known theatrical superstitions as we explore the streets and gaslit back alleys between Covent Garden and St James's.
Fans of spine-tingling ghost stories and those with an interest in theatre's dark side, should book now to avoid disappointment.
Dates: 25 October, 1 November, 8 November, 15 November at 18:00.
The tour on 8 November will be British Sign Language interpreted.
---
General tour information
A minimum of 12 people are required to ensure each of our tours goes ahead. Places cost £10 and we ask that you pay in advance to secure your booking. The meeting point is revealed once payment has been received. Tours do not involve going inside or backstage at any of the theatres we visit and they go ahead whatever the weather so please come prepared. Tours are recommended for ages 12+ and they last approximately two hours, depending on the size of the group.
Booking
To book a place on any of our tours, please call 0207 557 6700 or buy online below. For more information, email walkingtours@soltukt.co.uk.
---


DIANE BURSTEIN
TELEPHONE: +44 20 8445 0159
Email:diane@secretlondonwalks.co.uk